Ever-Beauty (The Ever-Beauty Investment Company Limited), founded in 1991, is keen on providing effective skin-care products to every customer. With the pursuit of health and beauty for our customers' full satisfaction always being our passion, we desire to share skin-care tips with all our fans particularly those suffering from skin ailments so that full and speedy recovery may be achieved and undesirable pressure relieved.
Within two decades since our inception, Ever-Beauty has branched out into skin-care centers, thereby providing not only comprehensive skin-care treatments to our clients but also advanced and prestigious skin-care products supplied by leading cosmetic and pharmaceutical houses, local and abroad, to our customers on a retails basis.
As a way to thank our customers for their most admirable long-time loyalty and patronage, in year 2010, the 20th anniversary of Ever-Beauty, we decided to set up our first website mainly for the convenience and benefit of our customers who care to tap into our electronic resource. With simply a touch of your finger on the keyboard, you will have access to the exquisite information that Ever-Beauty has pledged to make available online.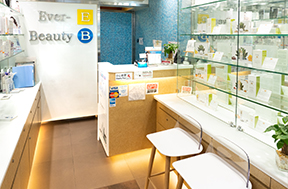 It is our sincere hope that each and every of our customers will maintain the best skin condition that reflects fitness and health while their cordial relationship with Ever-Beauty shall perpetuate as our website will prove to be one that is constantly updated so as to maintain its informative value.
Your satisfaction is the core of our business and for their reason alone, tremendous effort has and shall continue to be made to reach out far and wide for new brands worldwide, particularly those of Europe, North America and Australia whose products are of proven efficacy for divers skin types and for short and long term uses. Our customers' full confidence in any single item of both our cosmetic service and supply is undeniably our primary concern.